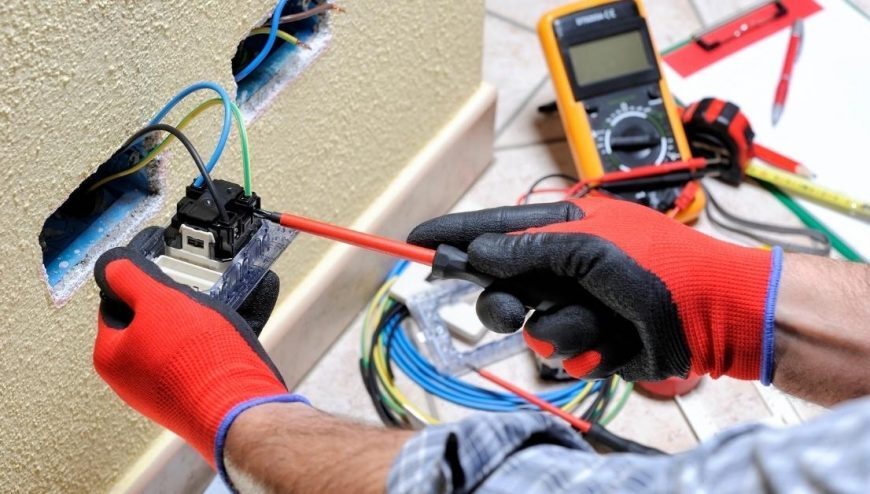 Electrical Installation, Service, and Repair in Moorestown, NJ
High-quality electrical work is more important now than ever before with a modern home that requires a large amount of electrical power to supply all kinds of required equipment. If your home's electrical wiring or system is inadequate, you may be at risk of power surges that can damage or destroy your devices or even a faulty electrical system that can cause an electrical fire.
When your home needs an electrical repair, electrical installation, or full system upgrade, the Master electricians from DK Electrical Solutions serving Moorestown, NJ, are here to help.
Click to jump to section:
Why Choose Our Master Electricians in Moorestown, NJ
All our electricians at DK Electrical Solutions are licensed, bonded, and insured. We provide full-scope residential and commercial electrician services for Moorestown, New Jersey, and the surrounding area. Our Master Electricians are friendly and respectful of your family and your home. We provide the attention to fine detail that ensures all electrical work is done safely and is of the highest quality.
We bring everything we need with us to complete the job unless there are special additional needs.
We diligently perform all necessary process safety checks.
We address any and all unique requirements for the safety of your family, pets, home, and belongings, and our workers.
DK electricians cover our shoes while working in your home.
We clean up thoroughly after completing the work.
We perform all work with as little disruption to your normal household routine as possible.
We communicate with you and your family courteously and respectfully throughout the process. We treat all our customers like family.
If you are looking for a top-quality electrician in your area to make sure the job is done right the first time, call DK today. We'll answer all your questions and set an appointment with you for the electrical service or inspection you need.
Our Moorestown, NJ Electrical Services
Performing electrical work safely and producing quality workmanship requires extensive industry training and experience. Electrical work can be very dangerous and costly when not performed by an appropriately trained, experienced, and licensed electrician.
Electrical installations and fixing electrical problems are not the kinds of work building owners should undertake on their own. Fortunately, your team of Moorestown, NJ electricians at DK have built our reputation on our expert craftsmanship, impeccable safety record, service reliability, and timely service.
If you need an experienced licensed electrician who can quickly and properly perform the electrical work you need in your home, commercial building, or industrial facility — call DK.
We offer the full range of residential, commercial, and industrial electrician services including:
Here's what you can expect from your Electrical Solutions Master Electrician. BEFORE ANY WORK IS STARTED AT YOUR PROPERTY:
Your DK electrician will always explain exactly what is necessary to complete the electrical work you need.
Your electrician will provide you with a complete list of all parts and materials that will be required.
Your electrician will make sure you understand:

What will be done
How long the work is expected to take
How much it will cost

The electrician will obtain your approval before starting the work.
Financing Options Available
DK Electrical Solutions offers very helpful special financing for our customers on larger projects. Call anytime for more details.
$0 down payment
0% Interest financing (with qualified credit)
Special Coupons and Service Discounts
See the DK current coupons page for our special discount offers on some frequently requested electrical services!
Discounts for Wiring Inspection
Discounts for Electrical Evaluation
Discounts for Installations
Other Discount Coupon Offers
Get an Estimate from DK Electrical Solutions
If you're looking for a local Master Electrician who will make your needs the top priority, call us at DK Electrical Solutions in Moorestown, NJ today. Call if your home or business needs electrical safety or wiring upgrades, emergency electrical repairs, installations, or any other electrical work.
Schedule an appointment to have one of our highly qualified and experienced electricians provide you with a bid for the work you want to have done.
Call DK Electrical Solutions, Moorestown, NJ, at (609) 796-4177, or fill out our contact request form on our website today to schedule with a local electrician anywhere in your New Jersey area.